Wedding Lingerie
We always suggest you choose your dress then the lingerie, the cut is the most important factor: under a bustier dress you would wear a strapless bra, under an extra tight one you may prefer sensual control briefs, or a figure-fixing body or underdress. You should also match the fabric of your lingerie to the fabric of your dress. If you've chosen a wedding dress with a lot of lace or embroidery, go for a set with abundant needlework. Smooth lingerie that does not show under clothes is the best choice under fine plain fabric. It's always nice to wear something beautiful and slightly sexy on your wedding day too and we have a lovely selection of suspender belts, garters and stockings. It may be the only day you really push the boundaries with lingerie and what better day than your wedding day.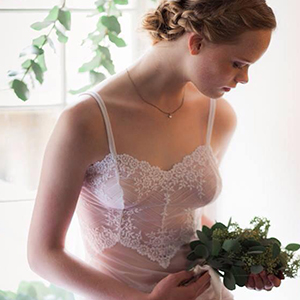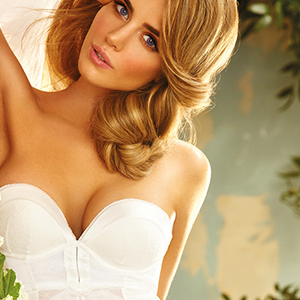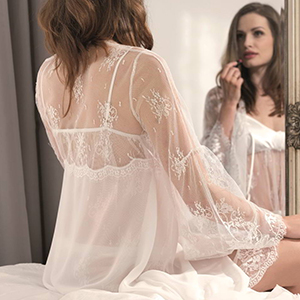 Honeymoon Lingerie
Honeymoon lingerie, is something perhaps not everyone thinks of but you've worn a beautiful gown all day, you've chosen stunning lingerie and then when it comes to the evening and honeymoon you've perhaps not really considered it and you slip into an old comfy nightie!!!! Don't!!! It's a perfect time to wear something sensual, sexy and beautiful and with our silk chemises, silk baby dolls, gorgeous nightgowns with sensual detailing, make yourself feel extra special on your honeymoon night and beyond.
Swimwear
So you've had your dream day, you've worn the most exquisite dress, lingerie and chemise for your honeymoon evening. Now you're jetting off to your honeymoon destination and you have chosen a beach destination or a spa retreat. Swim wear and beach wear are key to looking amazing and really feeling special. We have a large stock of swim wear and beach wear all year round, with bikini's fitting in cup size and bottom's separate we get the perfect fit, so if you're a C cup or an H cup we have the bikini for you. Full suits come in a variety of styles, so again getting the perfect fit for your shape. We offer styling advice on all our swim wear too and have complimentary beach wear, beach sandals, bags and hat so you'll have the most perfect look for your dream honeymoon.
If you would like to make an appointment for a personal consultation with me please call 01423 869096 and I will be delighted to help.